Horde of the Rat King
A downloadable adventure map
Horde of the Rat King
A short dungeon crawl adventure for tabletop rpgs for the MS Paint Jam.
The Horde of the Rat King is a short adventure created in an evening. It's mean to be played with any d20 system, but can easily be adapted to any system.

IMO, All the best drawing in MS Paint is done with the mouse. I've gotten decent at doodling with my mouse over the years. I found the secret is embracing the jank of the line, suggesting shapes and silhouettes more than hard outlines.

This adventure has never been playtested, was improvised as I sketched, and is primarily meant to spark the imagination of GM's and players.
Made for the MS PAINT TTRPG JAM
Check out my other submission, The Abandoned Goblin Tower!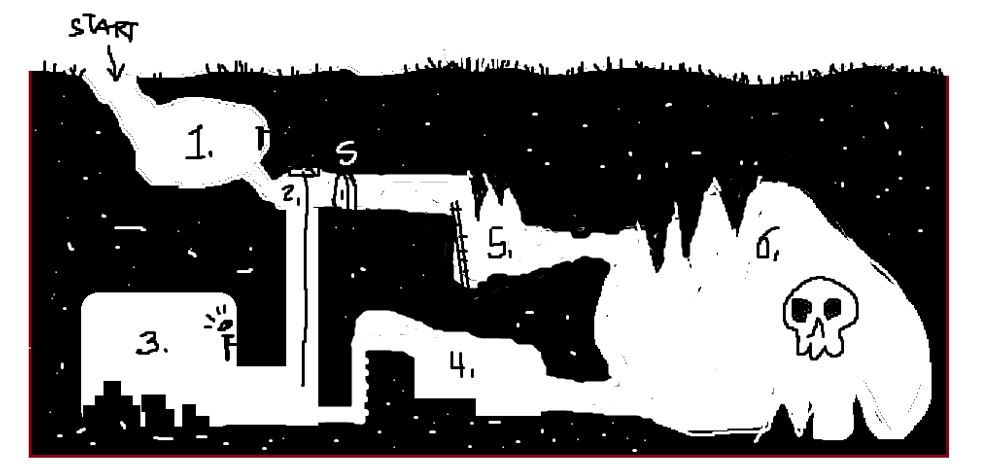 Horde of the Rat King

1. Mossy Cavern:
The entrance is hidden behind a dense mat of moss. The path follows a small tunnel that looks recently dug.
2. Rotted Mineshaft
A dusty rope descends down a 30m mineshaft. A dim light can be seen at the bottom. The rope will break if more than 100lbs force is applied.
Secret Door - DC 20 Perception
3. Blasting Room
Room filled with rotted and smashed wooden box labeled "Boomsticks". Searching the rubble, players can find a single Boomstick - (Dex Save 12, 6d6)
4. Trash Heap:
Filled to the brim with bones, offal, and scat of some seemingly large creature. Noxious fumes attack the player's senses like Poison - (Con Save 12, 2d8)
5. Crystal Cavern
A ladder leads down from the secret door into a cavern filled with precious gemstones worth 250gp.
6: Tomb of the Rat King
A large natural stone cavern is filled with a glowing golden light reflecting off the large piles of coins littering the ground. Once any of the gold is taken, the Protector of the Tomb is awakened!
Roll for Tomb Guardian (d6)
1-2: Giant Bone Golem
3-4: The Cryptkeeper
5-6: Giant Spider Swarm
Download
Download
RAT KING SUBMISSION MS PAINT TTRPG JAM.png
324 kB